Our Process*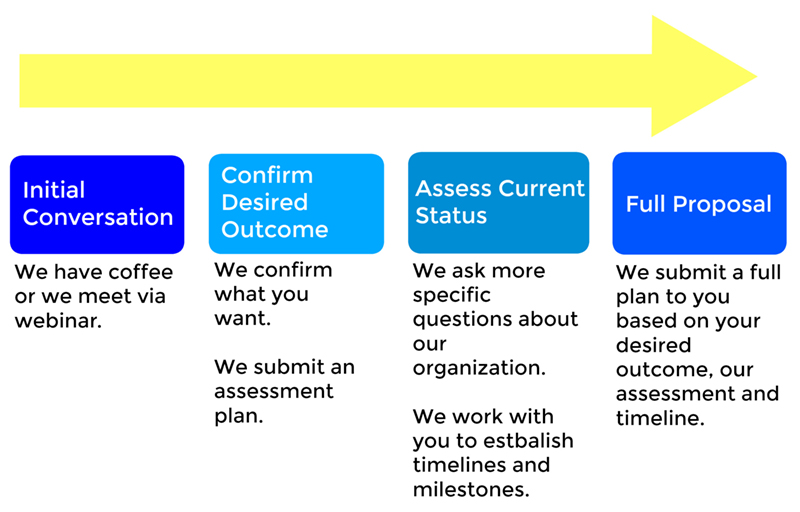 *The process is a typical response and may be customized based on your organization.
Our Pricing
To help you gauge the potential cost, please find sample case scenarios estimates for further clarity (Please note these are ONLY estimates and client costs are based on each individual client scenario):
---
Non-Profit seeking a part-time contracted Executive Administrator to facilitate the Board, establish overall strategy and manage an annual plan, research and submit grant applications, manage the Board and its subcommittees, create and manage online and social media communications, plan and execute an annual event and establish strategic partnerships.
Estimated retainer per month plan (evaluated annually): $5000 for an estimated 40 hours per month plus annual dues and fees (website, grant search engine, client tools such as grant research systems, project management, email systems, etc.)
---
Small Manufacturing Business seeking to increase product sales, research and make recommendations for an internal bar coding system, survey the existing customers to identify historical sales trends and market advantages, research and complete small business certification submission, support the development of an internal sales system (Salesforce) and research and support local, state and national funding sources applicable to the growth of a small business.
Estimated project cost: $43,000 for an estimated 400 hours plus expenses
---
Youth Development initiative seeking a strategic plan, design of an implementation plan, grant research, application and submission, event planning, marketing support (online newsletter monthly, social media updates) and online data system training for users (Monday.com).
Estimated retainer per month plan (evaluated annually): $4000 for an estimated 40 hour per month
---
Workforce Agency seeking a grant writer for a Federal proposal due in 60 days with strategic partners and adhering to the Federal grant proposal guidelines and including a completed submission.
Project cost estimated at 50 hours: $5,000
---
Government Agency seeking a curriculum design for a Statewide policy, the design of training modules and conducting the training across the State over a 5-month period of time (rush project).
Project cost estimated at 250 hours: $32,500 plus travel expenses
---
Non-Profit or Government Agency seeking to design a strategic plan process using an Appreciative Inquiry approach and including a SWOT analysis with stakeholders; literature review of similar agencies, their services, goals, and impact for comparison; goal setting with measurable objectives; community outreach announcing the planning process and the finalized plan; and an operational plan of the strategic plan with key leadership.
Project cost estimated at 400 hours: $40,000
---
---
Ascend provides total project management and includes a full spectrum of management and executive services to organizations.
Our topic areas of expertise include Workforce Development, Small Business Support, Youth Development and Government and Non-Profit Management
Email us today at hello@ascendadvise.com to have coffee or a phone call to talk about your needs and how we can help