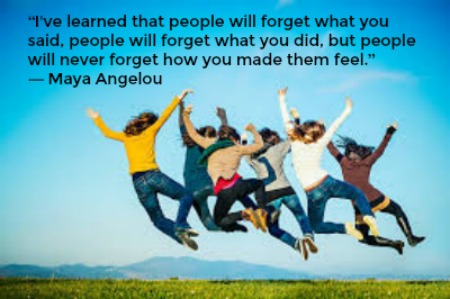 Build the Culture. Build Relationships. Tell Your Story.
In the highly competitive funding field of nonprofit organizations, fund development strategies need to engage everyone within your organization and your volunteers in their planning and in their implementation.
Fund development in the nonprofit sector is always an interesting challenge. I enjoy the quote in the picture by the poet Maya Angelou because I know funders and donors are more likely to support your mission if they feel connected and engaged. Your staff, volunteers, and Board members need to feel passion for the mission too.
Here are two tips you can use to help your fund development strategies thrive:
Tip One: Peter Drucker wrote, "Culture eats strategy for breakfast." Truth.
"Culture eats strategy for breakfast," … lunch AND dinner. Building a culture that embraces your fund development plan and builds passion among those who will be implementing the plan is a must or you will fail.
How do you do this?
Conduct a listening tour with those who are a part of the organization to hear their perspective on the agency, the impact, and funding needs or successes. Use what you learn to inform your plan, maybe even taking a key idea or quote from the listening tour as a part of your plan presentations.
Engage those who are responsible for the implementation of the plan in the planning process.
If it's only YOUR plan, be prepared to be the only one with a passion for it and working towards the goal. Oh, and be ready to be burned out within the next quarter.
Build celebrations into the plan for small "wins".
Everyone likes to celebrate success so build it into the plan for small and big "wins". A new donor? Celebrate it! Reaching a new milestone on the fund development goal? Celebrate it! If your organization starts to feel like one big party, the plan is being implemented successfully and goal attainment is likely.
Tip Two: It's about relationships. Always.
If you cannot imagine giving someone $20K without an existing relationship built over time, why do you think a funder or donor will?
Relationship development is essential in sales and nonprofits are in the business of "selling" their mission. Relationship development takes time, even if you can save the world with your mission, people need to understand how and believe you can. They want to know their investment will have impact.
Be patient and appreciate the opportunity to hear more from the funder or donor what really makes them feel good about their work. It is that feeling you can build upon to be memorable to them.
Tip Three: Tell Your Story. Make It Memorable.
Want to learn more?
Join Alison Motz and Kathleen Wildman of Ascend Advisors and Matthew Fieldman of MAGNET for a key session of this new leadership series, Conversations and hear more about fund development strategies. This webinar will provide you with 10 tips about grant development, fund development events versus friend-development events and funding strategy basics.
Tuesday, January 23, 2018 @ 9:00am EST - 10:30am EST
Registration is limited. Prior to the program, you will receive information for connecting to the webinar.