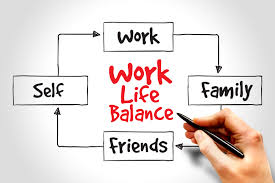 According to an article from the Mayo Clinic, when "work life and personal life are out of balance, your stress level is likely to soar." The consequences include fatigueue, poor health, lost time with friends and loved ones and increased expectations.
The health costs alone include depression, heavy drinking, memory loss, and heart disease.
I have never claimed to be the poster child for work-life balance, but I strive every day for work-life quality. You can too. Let's have a conversation and design some practical strategies for you that you can implement for yourself, your team and/or your organization.
It's no secret that nonprofit work can be gratifying but when you ask those working in the industry, many also would say it comes with a price of "24/7-itis."
If you've met me through the series or you know me from other lives I lead, you may know that I not only enjoy making a difference through my work, but I also enjoy my children and my friends immensely and do everything I can to maintain those relationships.
Balancing a marriage, four kids, a dog, a cat, work, kids out of school time activities, friendships, my health and a desire to one day get a glimpse of Bigfoot has its moments of being overwhelming. I have days where I KNOW I'm out of balance.
When this happens, I must go back to my basics: 1) focus on what I can control and do that well; 2) let go of perfectionism; 3) get back time to myself, even if that means at 5 am; 4) enjoy the time I have with my children and be present with them; 4) call one friend a week; and, 5) acknowledge that Bigfoot just might not exist (I think that hurts the most).
Some days, I make it, and some days I don't. But we're all human and just because it didn't work today, doesn't mean I give up. For motivation, I often think of Churchill, "Never, never, never give up."
So, what are some practices? How do I apply them to my life? To my organization?
1. Working Smarter: More Hours Does Not Equate to More Productivity.
In an article written in Forbes Community Voice, a study done by Boston University concluded managers couldn't tell the difference between employees who worked 80-hour weeks and those pretending to. (McCann, Forbes Councils, January 2018).
Working smarter may sound complicated, but there are some practical things you can do to boost your productivity such as scheduling email responses and phone calls, prioritizing your day (eat your frogs in the morning), taking a break, and avoid multitasking.
2. Know Yourself: What Are Your Non-Negotiables and What is Quality of Life to You?
I asked a colleague what advice she would share about this topic and her reply was, "Negotiate your needs up front in a new job." But to negotiate, you must know what your non-negotiables are, be able to say "no" when it doesn't fit and determine what quality of life looks like for you.
Are you up for the challenge to start building your work-life balance practices? Or is the question really, can you afford not to?
Join me for a "Conversation" about work-life balance on Tuesday, April 24, 2018, at the Foundation Center Midwest from 9:00am-10:30 am. In our workshop, we will further define work-life balance/work-life quality, explore practical strategies you can use for yourself and a few you can use with your staff, department or partners.
By the end of the 90 minutes, you will have a plan for yourself and maybe even some practices for your office to keep you and the organization healthy.